Alcázar of Toledo: Tours & Tickets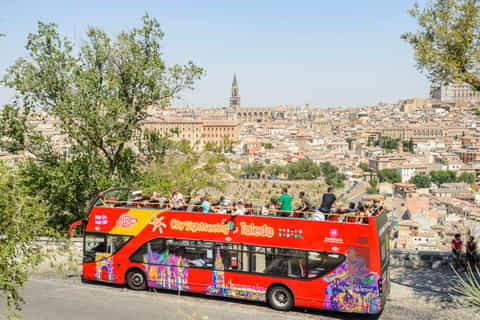 Toledo: Hop-On Hop-Off Bus Tour, Walking Tour & Alcazar

Andalusia and Toledo: 5-Day Tour from Madrid
Free cancellation
Change of plans? No problem. Cancel up to 24 hours before your activity starts for a full refund.
What people are saying about Alcázar of Toledo
Get you guide was a good option. We were told the trip left at 10 and we got there before 9:30 only to be told we will walk to our bus stop at 10:15. At 10:20 we were brought to the bus location, it was about a 5 min walk. I wish when we checked in they reminded us that we paid for an English speaking guide once we got to Toledo because we left and went directly to the Cathedral because we wanted to spend most of our time there. The package we purchased also had the free on-off bus pass for Madrid but we had no idea how to access it our use it, nothing was ever explained and we could not ask because the person from the tour company left after we were dropped in Toledo. All in all it was a nice day trip from Madrid to Toledo. Just know what your purchased and how to access it all!
It was amazing. There's so much culture in this city and you appreciate how beautiful it is from the buildings to the stone roads. I took the tour and loved it because our tour guide explained everything and brought us to places I probably wouldn't have found alone. It is built on hills and it's a lot of walking so wear comfortable shoes and bring water. Great experience!
The tour guide on the bus was good. The transportation was good. The tour guide for the guided walking tour was a nice person, but she wasn't effective at storytelling or weaving history throughout the walk. She basically gave a couple of facts about some buildings and told us where we were going next. Didn't really learn anything about Toledo.
The overall experience was nice. I liked the fact that we went around the city to have a good view before entering and that they gave us a map with places to visit. The guided tour was interesting but we spent too much time standing while listening to the guide instead of walking around the city.
I wish since the trip was on a Sunday it could have started maybe an hour earlier. The museums close at 2-3 and we did not get there until 12:30. We also made a very long unannounced stop at a jewelry making place which again ate into our time.