Popular Tours in Ayuntamiento (City Hall)

Seville: Landmarks Electric Bike Tour
Small group

Duration: 2.5 hours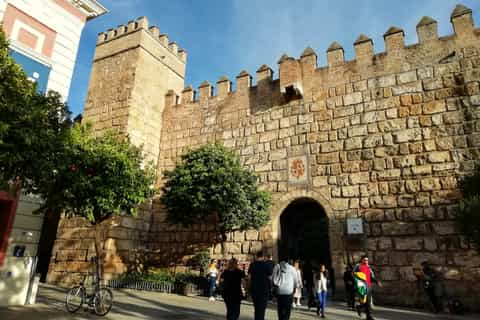 Seville: Old Town Wonders Exploration Game & Tour
Free cancellation
Change of plans? No problem. Cancel up to 24 hours before your activity starts for a full refund.
Other Sightseeing Options in Ayuntamiento (City Hall)
Want to discover all there is to do in Ayuntamiento (City Hall)? Click here for a full list.
What people are saying about Ayuntamiento (City Hall)
Very good interesting tour of Seville. Saw a lot with lots of info
We took this tour 24th Feb 2019, the 10:10 slot. There was supposed to be another couple joining us but the had overslept so a much more personal experience for us. Our guide (Phillippe) was excellent with amazing knowledge about the city and landmarks we saw, very friendly and ensured we spent all the time we could and answered all out questions. He also provided helpful tips on what to see and when to go see them (i.e the royal palace where the queues are very long). E-bikes make the journey effortless and with the bast amount of cycle routes round the city there was no issues. All in all, a great experience and highly recommend to anyone visitng Sevilla
Fun, easy bike tour giving you ALL the sights of Seville
If you are looking for a fun, informative, easy going bike tour that will get you to all the major sites of Seville in just a couple hours with a FANTASTIC guide providing you cool insights and history, then this is the perfect tour for you. Niek, our guide, was really knowledgeable, fun, engaging, and insured everyone was enjoying themselves throughout. The bikes are awesome. Prior to the bike tour, our legs were tired from walking all day and night the day before in Cordoba and Seville. The motorized bike kicks in extra power (a boost) when you pedal and thus the bike tour is easy for people of all ages. Treat yourself to this awesome bike tour!!
The First Thing You Should do in Sevilla
My family and I thoroughly enjoyed this tour. I really believe that if you make this tour your first order of business upon arriving in Sevilla, it will make the rest of your stay in the city more enjoyable. Our guide Luca was very knowledgeable, patient and friendly. He explained not only the history of Sevilla but also how that history affects Sevillans' point of view and lifestyle. He showed us how to find our way around the city using landmarks and gave us many helpful tips about walking the city, eating, tipping etc. I really felt like I knew Sevilla enough to go out and explore safely and confidently. I highly recommend this tour.
If you are short on time...this is a must!
Our guide was knowledgable and fun! We only had one day to spend in Seville. We drove from Portugal just for the day, so we didn't have time to walk all over the city. Doing the bike tour was a great option for us, especially with kids. Quick and easy, but still packed with a lot do good info. I got some amazing photos and took home some great memories. We ended up only being on the actual tour for 2 hours after it was all said and done, so I think it could have been a bit longer or at least the full 2 1/2 hours that it was supposed to be. That is my only complaint. Other than that......fantastic!
A great way to find out more about this fascinating city
Marie was our guide and provided a great understanding of not just the sights but also how they told the story of Seville and its history. The bikes are easy to use of course and the battery power grateful on a hot afternoon. Yes, it is more expensive than standard bike tours but we felt the extra was worth it.