Popular Tours in Elbphilharmonie Plaza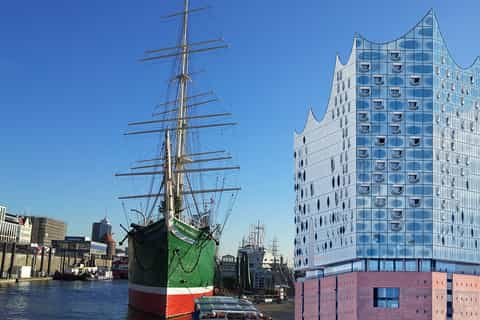 Elbphilharmonie Tour without Concert Halls & Harbor Cruise
Skip the ticket line

Duration: 2.5 hours

Hamburg: HafenCity Food Walking Tour with Elbphilharmonie Plaza Entry
Free cancellation
Change of plans? No problem. Cancel up to 24 hours before your activity starts for a full refund.
Top Attractions in Hamburg
Other Sightseeing Options in Elbphilharmonie Plaza
Want to discover all there is to do in Elbphilharmonie Plaza? Click here for a full list.
What people are saying about Elbphilharmonie Plaza
Good Tour Guide, but disppointed with booking company.
We booked to go on the Tour and turned up about 2o minutes before the schuduled time. Other people arrived and we figured there was German speaking group and and English speaking group. The german gude arrived but no English Guide. At about 10 minutes after the start time I sent and email and then approach the German guide and to ask him what was happening. He phoned the booking company and got to speak to a girl. First she said we arrived too late and then changed her response that we booked too late. I said we booked two days ago, so she said it was canclled because there was not enough guests. But there were 7 people waiting. She that said we could do the tour the next day, but 5 of the 7 said they could not do so I asked her for a guarantee that it woul go ahead. So we turned up the next day and did the tour with just 3 guests. While the tour was good and informative the booking company is just plain shonky.
It was great. I had my kids with me and it was easy to go along with. It was not too much information and it wasn't so complicated. The food was great and Christa explained a lot of interesting things about Hamburg. We learned a lot and it wasn't very rushed or too full. We got many recommendations for good restaurants and museums.
It was a very nice guide, who had a good loud voice and had many stories to tell about the creation and construction of the Elbphilharmonie. Although our location was next to a stand with a very loud music, the man had a very good voice.it was very exciting and entertaining and was fun.thank you very much
A fascinating building - and the story was told in an engaging and thorough manner by our guide Andre. Very lucky to be only 2 solo travellers with this guide so I feel I really got to hear all about this truly stunning building and have all my questions answered. Would highly recommend.
My tour guide was one of the best I have experience over the years. Attentive, thoughtful and a delightful sense of what is most important in describing the program. Every stop was an great experience.