Popular Jet Ski in Miami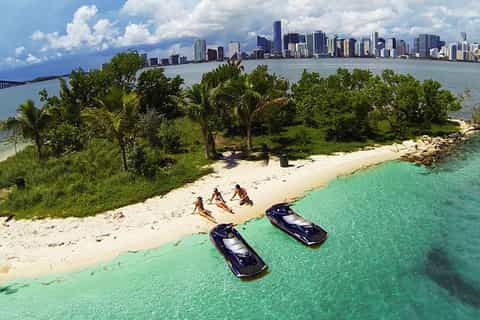 Miami: Jet Ski City Tour
Small group

Pickup available

Duration: 2.5 hours

From Miami: Bimini Bahamas Day Trip Economy Class with Transfer
Pickup available

Duration: 1 day
Free cancellation
Cancel up to 24 hours before your activity starts for a full refund.
What people are saying about Miami
hagen was the single best and most import part of this trip he picks you up has water and soda in the back of a yeti cold as ice and has a extremity welcoming sence you will feel extremely comfy on our way and back from your jet ski ride he was the guy that drives you from your hotle and back he has an extremely vast knowledge on the area you go to it like a tour when he drives and he will even go the extra step to drive you back from the tour to your hotle with a tour of everything he took us down roads we didn't know existed told us whre we should go and even handles your freeeee photos and videos he didn't even mention once he wanted or accepts tips but we tipped him rightfully so he also speaks English Spanish and German so he will be good for any person the tour was amazing the guide was sweet knowledgeable and let us have fun with the right safty standards of course I highly recomend this and wish anyone to do this get the experience we got from this worth every penny
We enjoyed this entire adventure very much! Hagen was extremely accommodating. He picked us up at our hotel, took us to the JetSki company for a 90 minute ride around the bay and into the ocean, then drove us around Miami and showed us some very interesting sites before bringing us back to hotel. John, the gentleman that took us on the Jetske tour, was a lot of fun and the tour was incredible. We spent just over 90 minutes on the Jetske's which was great. From the moment we booked this adventure, the communication was fantastic, there were no issues and everything just went off without a hitch! It was so wonderful, Hagen took pictures and sent them to us after the day. We enjoyed learning about the history of Miami. Thanks to both of you for a great day.
My goodness we me the most amazing tour guide Hagen. He came and picked us up at our hotel, greeted us in our lobby. On the way he offered cool drinks and had great knowledge about miami. He escorted us every step of the way to our jet ski tour and handed us off to Phillip who all was an Amazing instructor/guide as well....jet skiing was the best experience ever! SO MUCH FUN! After our 2.5 hr ride Hagen was there waiting with more cool drinks and on way back to hotel gave us an amazing tour of miami and gave us great suggestions for local night life. Thank you Hagen!
Hagen was a great tour guide he made sure we were comfortable and made sure we had all the things we need to ride nice jet skis. He also talked about the history of Miami and other things in our interests. Thanks Hagen .
Our guide Hagen was awesome. The jet ski tour was one of the funnest experience of my life! So happy we did it