Top attractions in Milazzo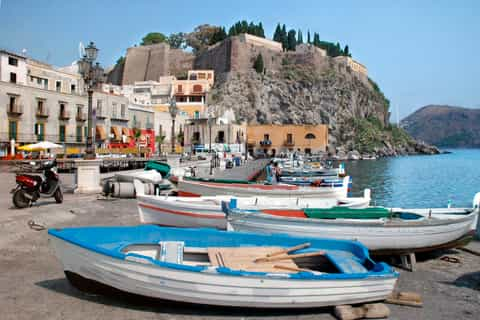 From Taormina: Lipari and Vulcano Mini Cruise Aeolian Tour
Skip the ticket line

Duration: 12 hours
Free cancellation
Cancel up to 24 hours before your activity starts for a full refund.
What people are saying about Milazzo
Der Ausflug war schön, wir haben sogar Delphine gesehen. Die Bucht auf Panarea kann man sich sparen. Sie ist sehr klein, total überlaufen und es gibt keinen Schatten. Für einen Sonnenschirm mit 2 Liegestühlen wollen sie 20 EUR für 2h und das Taxi zur Bucht kostet nochmal 15 EUR ein Weg. Lieber in der Hafengegend flanieren, macht mehr Sinn. Der Stromboli war toll, die Lavaströme die auf allen Flyern und im Internet zu sehen sind, bekommt man allerdings nicht zu sehen. Also nicht zu viel erwarten! Auf jeden Fall ist die Aktivität aber deutlich zu sehen, bei Tag und auch bei Nacht, man braucht allerdings etwas Geduld. Sehr beeindruckend! Gestört hat uns, daß man auch draußen auf Deck einen Mundschutz tragen musste. Auf jeder Fähre sind die Außenbereiche mundschutzfrei, bei diesem Ausflug leider nicht.
This was a really good and well organised excursion. The crew were fantastic and kept us informed throughout. They even walked us to point out where the buses departed from in Lipari. However, my recommendation would be to arrange a taxi in advance to maximise your time on the island and save money at the same time, as the buses Are the cheapest option but run infrequently. The mud spa on Vulcano was closed which was a big disappointment being one reason for initially booking, however the hot sea and the beautiful views more than compensated. Will definitely book again to return in the future.
The boat was on the crowded side, but there was plenty of ventilation and the staff was vigilantly instructing guests to keep their masks in place. Time on each island and after dark to watch Stromboli do her stuff was just right. Unfortunately, only a little bit of eruption action to see, but that's just how it goes sometimes.
Excellent experience and great value for money
We really enjoyed visiting the islands, but we especially enjoyed the 'after dark' experience of witnessing a live volcano. This was an 11 hour round trip - excellent value for the price.
A nice trip, enough time to explore the islands but boat was extremely crowded. No place to sit and dangerous in times of Corona.