Popular Architecture in Montepulciano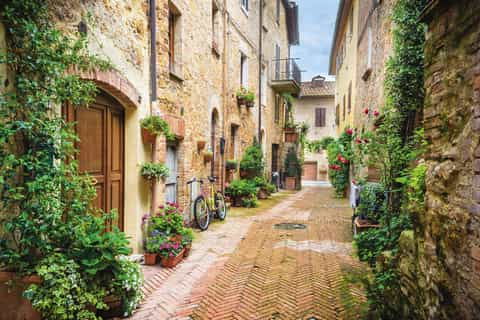 Pienza and Montepulciano Wine Tour from Siena
Duration options: 10 hours - 615 minutes

From Florence: Siena, Cortona, Montepulciano & Val D'Orcia
Small group

Duration: 11 hours

Pienza and Montepulciano Small Group Tour from Siena
Small group

Duration: 8 hours
Free cancellation
Change of plans? No problem. Cancel up to 24 hours before your activity starts for a full refund.
Things to Do in Montepulciano
What people are saying about Montepulciano
Good easy going relaxing tour of 3 Tuscan cities.
The day trips to 3 Tuscan cities plus a wine tasting visit of a wine producer, visiting his cellar and tasting 4 of his wines, was just great. Do remember this is not food tasting tour, so no lunches are provided, just bread and olive oil and cheese for the wine tasting. Each visit of the 2 old towns Pienza and Montalcino is about 1 hour each and the visit to Montepulciano old town is 1 and half hours to give time to those who opted to go on an optional half hour ride on the tourist train (additional charges to be incurred). Ana our tour guide was great and knowledgeable. She provided all the info you need before we arrive at any of the old towns. Then you have a free and easy self guided walk around town. It was just what I was looking for, as I don't like to be rushed and herded like sheep into towns from one location to another. I prefer to take my own time to explore the towns myself. Our gp was small about 15 of us, & contrary to other previous reviews, our bus was on time.
At september 14 morning the bus pick up us (was late like 30min, they arrived from Florance, i guess the traffic was crazy) Had a wonderful day with our tour guides- she was soooo informative and spoke 3languages- first stip Montalcino. Drinking wine, had a little.... little! snack. Than heading to Pienza. Try some pecorino there,goes around the town(we had like 40-50 minutes) :( and travelling to our last stop to Montepulciano. Over all, trip was fine, good weather, nice wines (take food with you or prepare yoursef to eat quick at these towns' reastaurants) Thanks for everything!
Guides Alberto and Claudia were great. The winery was fun and seeing the three medieval towns was worth it. We also enjoyed the guided tram ride history lesson which was not an advertised option. We knew from other reviews that this wasn't really as much a food tour as a culture tour. Liked learning about Pope Pius and the Tuscan history. We loved meeting the other people on the tour as well. Only downside was the bus was really hot.
The tour is an all day activity taking you through a wine tasting with Brunello, and then it takes you to the towns of Montalcino, Pienza & Montepulciano. Our Guide Alberto, was nice & knew all the facts etc about all the places. There's no food included, so make sure you take a sandwich or some fruit in case you will extra peckish. There are however plenty of places in the 3 towns to grab a bite! I would defs recommend this tour!
The tour was wonderful! It was really more about seeing the three towns than about food. The bus was modern and comfortable. The guide was very nice. We were basically left on our own to explore which was very nice. I recommend it.