Popular Audio Guides in Oslo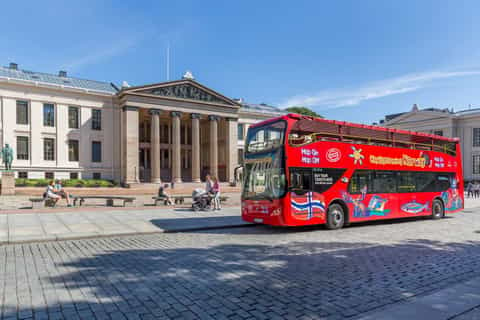 Oslo: Hop-On Hop-Off Bus Tour
Valid: 1 - 2 days

Optional audio guide
Free cancellation
Cancel up to 24 hours before your activity starts for a full refund.
What people are saying about Oslo
This was the BEST DECISION ever!! The men crewing the boat were so kind. The entire ship was gorgeous, from the wood detailing to the picnic tables to the cushioned seats to the twinkling lights. It was freezing outside and raining and gusting wind but the boat was driven expertly and did not rock violently at all. Loved it so much and made my whole trip!
Great tour, 2hrs was perfect - not too short and not too long. Sensible prices of drinks and plenty of blankets available (but I strongly recommend wearing suitable clothing anyway!).
Great afternoon out - audio was just enough to give some fun facts of the surroundings so you could enjoy the surroundings without disruption for most of the journey
Sit on the left for views of the coastline, on the right for views of the fjord. Wrap up, it's cold!
Interesting cruise; the weather was cloudy and windy so we didn't enjoyed as much as we want it :)