Popular Desert Safaris in Tromsø

Tromsø: Arctic Sailing Safari
Small group

Duration: 5 hours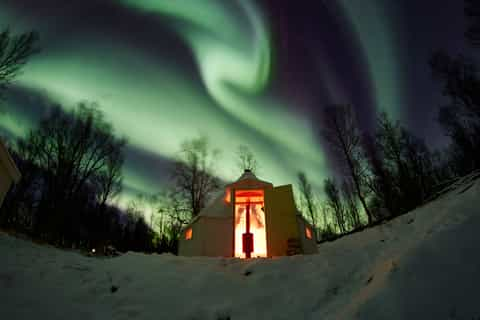 From Tromsø: Crystal Lavvu Stay, Aurora, & Boat Fjord Safari
Free cancellation
Change of plans? No problem. Cancel up to 24 hours before your activity starts for a full refund.
Top Attractions in Tromsø
What people are saying about Tromsø
Awesome experience . Loved every bit of it !
This is a very planned tour which doesn't fail you at any level. The RIB ride was very exciting and a unique experience in itself . The guide was very helpful . I had little difficulty in getting on and getting off from the boat but the guide helped me through and through and went out of way to see that I enjoyed as much as others .Getting off at an unused pier, seeing an eagle soar high and then land onto its nest ,all of it was fun packed. We went around the fjord and enjoyed the lovely scenery . Francisco at Lava house was a very warm host . He is very knowledgeable and made sure we see the northern lights at the right time and not miss them . Lavvu stay was not only unique but amazingly comfortable . Francisco kept the experience of this trip interesting and informative at the same time . Would recommend this safari as it gives a much better chance to see northern lights and even enjoy it in a relaxed manner .
We booked this tour and did not have high expectations as we had already been on a snowmobile excursion in Finland. We enjoyed this snowmobile safari a lot and had the pleasure to have 2 wonderful guides. Our daughter is 6 yrs old and she was the only child on the tour and enjoyed it immensely. Everyone took good care of her and gave her all the comfort possible. The scenery while driving the snowmobile is insane. Strongly recommended.
We had such fun on the catamaran, the skipper was very knowledgeable and took us around to many areas to find the best fishing spots. we were taught and then given the opportunity to catch Atlantic cod which was used in the fish soup for lunch. we had such fun and learnt so much about the area and wildlife!
From start to finish the day was great, the guides were amazing able to answer all questions. They helped with the fishing if required. The meal was amazing cod soup. The equipment to keep us warm was great. If you book a trip book this one
So much fun. Went fishing - and caught a fish. My teenagers had so much fun. Well looked after - scenery was amazing. The food was freshly cooked with fresh fish. Was amazing. A really good day out.