Popular Dinner Package in Tromsø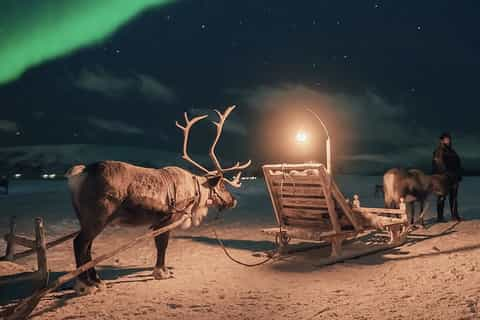 Night Reindeer Sledding, Dinner & Chance of Northern Lights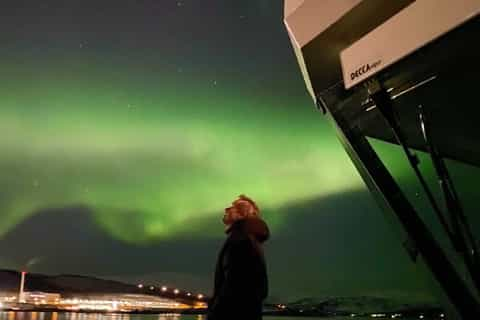 Tromsø: Northern Lights Cuisine Cruise by Electric Catamaran
Free cancellation
Change of plans? No problem. Cancel up to 24 hours before your activity starts for a full refund.
Top Attractions in Tromsø
What people are saying about Tromsø
Although this tour had lots of people on it (large bus full), it didn't feel too crowded. Feeding hundreds of reindeer out on the field was amazing; if you were quiet and didn't move too quickly, they would let you pet them as well. The Sami host was very funny and had some good stories to tell. He didn't mind answering questions and talking personally to me, which I really appreciated. He was good with all the kids in the group and helped them learn how to lasso reindeer (antlers). I thought the meal was really good; the reindeer stew was tasty. We didn't really look for northern lights, but I suppose if the sky had been clear, we might have done this.
Loved the reindeer experience. There were 100+ reindeer. They gave us plenty of buckets of food for the reindeer. They were very hungry. The stuck their heads into the bucket to eat. We found out later they will eat out of your hand. We should have tried that. After, we had some reindeer stew and had the Sami cultural experience. Unfortunately, this was not very good. The host Sami guide (who we've seen on a few YouTube videos) was rambling and hard to follow. A few people asked questions but mostly the didn't get answered, but he was jovial and somewhat famous.
I did 3 hour fishing adventure. Trip stated from Tromssa harbour near Scandic hotel. Boat was about 20 m long and in good condition, From harbour we drove about 50 min to fishing area, during transit there was coffee and tee on boat free on charge. In first place we did not catch anything but crew did its best to find fish and on second place we started to catch fish. All in all trip was almost 4 hours and we cathed plenty of fish.
This was an amazing opportunity to meet the Sami people and learn about their culture, it gives you and incredible insight into reindeer farming and the new challenges they are facing with climate change. the reindeers are in great condition and not there to be used as a tourist trap, they are there for you to meet and learn about. the entire night was very well put together and educational. food was great too!
It was very nice trip with kids (7&9 years old). They even catch cod which they managed to pull up together. Captain find us a nice place where it was not windy so it was very warm considering that we were at arctic sea. We catch our fish late at trip so cook had done some salmon soup instead of using our catch.