Popular Walking Tours in Tromsø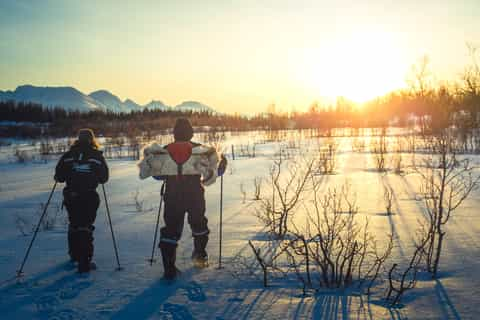 From Tromsø: Snowshoe Hiking Tour and Husky Camp Visit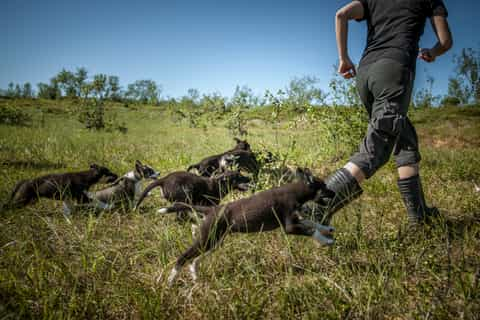 Tromsø: Puppy Training at the Husky Home
Free cancellation
Change of plans? No problem. Cancel up to 24 hours before your activity starts for a full refund.
What people are saying about Tromsø
Didn't see the Northern Lights as it was too cloudy but still a very enjoyable night. Depending on total group size it took a while to get everyone kitted out in the thermal suits so you get split into smaller groups each with a guide. You dont have to wear the suit but I'm glad we did as it had rained recently and some dogs got their mucky paws on us. The huskies were gorgeous and very friendly, some were sleeping but there were plenty that were awake and excited to be petted. Also got to go in the puppy pen for a little bit. Think we had just under half and hour with the huskies but after dinner we went back out to see them before boarding the coach. The bacalao was yummy (but spicy!) As was the chocolate cake and the sami hut was warm and lively, packed with guests from the days other experiences and those staying overnight.
Six of us attended this event and I can say we all felt excited in waiting for Nothern Lights and visiting Husky 310 dogs and their puppies. We had very good traditional dinner named Bacalao, then cake and cofee... and experienced fun time arround the fireplace outside. We had nice vision to the hills arround. This is very nice place for sure. Only thing we had no chance to experience were green lights on the sky above us. Nice staff explained whole process of Aurora creation in details which was good for all I think. KP Index was really high (about 5). We were simply just no lucky this time. There are many factors which have significant impact to the theatre we were waiting for. I will return for sure, have to see it at minimum once in my life :).
My Son and I had a lovely evening with the gorgeous huskies and their puppies. The warm clothing and boots were really helpful so you could get right down with the dogs. The guide was informative, friendly and the dogs were obviously loved and cared for brilliantly. After meeting the dogs we went to the viewing platform where we had yummy hotchocolate, marshmallows and biscuits by the camp fire while another, very knowledgeable guide explained the science behind the Northern Lights. We then had delicious, traditional Bacalao served in a comfortable, warm sami tent. A very enjoyable and informative evening with friendly and helpful guides and a very accomplished coach driver (there was a blizzard blowing!)
It was an excellent experience, exactly as it was described!!! The dogs where amazing and awake and all cuddling. the puppies that we saw were 3 months old and very cute. The hot chocolate that accompanied the informative talk, about the cultures of the north and the polar lights, was abundant. just like the cookies and the marshmallows. The food was very good and we were asked if we wanted more, which was nice!!! the same goes for the slice of chocolate/coconut cake that followed. We even had a lady who spoke Hellenic!!! In general, everything were perfect! Good job guys!!!
We did see the northern lights, and we could not go dog-sledding due to lack of snow. But no human can do anything about that... Thanks to kind and knowledgeable staff, we still had a great night out. Sitting by the fireside, meeting the huskies (such a wild but cuddly bunch!) and having a nice dinner in the "gamme" - a really good experience. Also, well-arranged transport from downtown Tromsø and back.